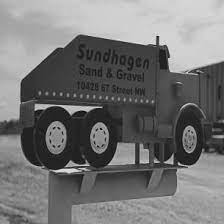 Other Services
Sundhagen Sand & Gravel
PO Box 550
Jamestown, ND58402
Sundhagen specializes in the processing and hauling of various sizes of rock, sand, gravel, salt sand mix and scoria.

Located in the heart of the Bakken, in Tioga, ND, we are a valuable partner in your general construction, road construction, or any other construction project, requiring a specific grade of sand or gravel.

Our scoria pit supplies scoria to the region's top oil producers. We manage, process, and haul aggregate throughout the Bakken.